Swimming with the Fishes

Koh Surin Marine National Park is Thailand's premier snorkeling destination, with numerous reefs teeming with fish and unparalleled corals. We were scheduled to visit in January 2005, but the park service kept us waiting until early February to accommodate clean-up of the islands. When we arrived, we observed some damage to the corals, particularly in the shallow bay off Ao Mai Ngam and at Torinla. Fortunately, the park remains spectacular and very much worth visiting. (Note that the park is closed during the Monsoon season, approximately May to November.)
Accommodations
As the park is located about 60km West of the mainland, most visitors will stay over at least one night. The park offers bungalows and tent camping; limited information is available on the park's accommodations page (start here). The bungalows are solidly constructed, with very basic beds and "doorless" showers in the baths. The electricity goes off at 10:00 PM, so make sure you have all your recharging completed by then.
Accommodation Facts:
Breakfast: all meals are available from the park.
Internet Access: ha ha ha.
Provisions: there is a gift shop and some snacks (and cold beers) are available for purchase.
In addition to one or two flashlights, it's a good idea to bring extra towels and, if you like wine or whiskey, BYOB.
Snorkeling
To visit most of the reefs around the main island you hire a longtail boat. A longtail is a wide, canoe-like wooden boat operated by an outboard motor with an outrageously long propeller shaft that can be oriented in almost any direction, making it possible to maneuver around obstacles and in shallow water. The engine noise can be oppressive in a narrow inlet, but otherwise is tolerable. In the Surin park, the longtails do not have any sun protection, so it is very important to wear sunscreen or protective clothing. Because the boat is open to rain and spray, and returning snorkelers will tend to drain into the bottom, possessions that cannot get wet should be in a sturdy plastic bag, or two. Don't wear your good shoes either: in some cases you will be climbing in and out of the longtail into about a foot of water, or a little more if the boat has drifted back from where it was run into the sand.
The following maps illustrate our 2005 itinerary, when we departed from and returned to the campgrounds at Ao Mai Ngam.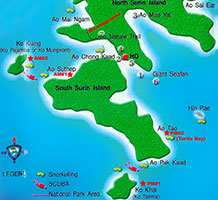 A large collection of "same day" underwater photos can be found here: 2005 and 2006. These were processed on site for quick viewing, and may not be as color-correct as the other photos on this site.
The Moken Village
After the tsunami, the Sea Gypsies who lived in the park were relocated to a protected cove, located on the main Southern island. Here there are traditional huts on stilts, as well as some exhibits about the moken lifestyle. In 2006, we noticed a solar collector (being used to power a radio) near a small site where a new school was to be built. While in the village, we purchased some handmade crafts, including boats and baskets. It was handy to have some extra plastic bags to get these back to the bungalow dry. In his article The Sea Gypsies of Surin Island, Antonio Graceffo describes some of the difficulties and contradictions raised by the resettlement of nomadic seafarers into a cove of a seasonally touristed park. He also has some photos of the village and people.
After a few cold showers, the idea of returning to a resort was very welcome. Our next destinations were Khuraburi and Takua Pa.